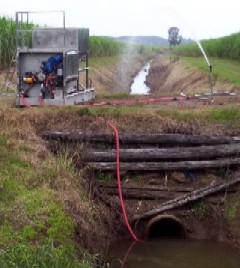 Links found on this page - acid cycle , acid discharge , acid run off , coastal regions , Calibrated Flood Gate Valve , CRAB , eco-system , environmental , iron monosulfide , sulfidic muds & soils

Acid Sulphate Soils
Actively Treating the Acid Sulfate Soils problem.
| | |
| --- | --- |
| | A hand spray nozzle attached to a quadbike for access into difficult areas or along drains. |
| | Acid Sulfate Soils can be treated through a chemical process using mainly lime products. |
| | Acid SolutionsPty Ltd have manufactured the CRAB - a Calibrated Reagent Applicating Blender that can return the pH to normal levels. |
| | |
| --- | --- |
| | Floodgate manipulation using the Calibrated Flood Gate Valve is another device that allows a continual flow of sea water into and out of canal and river systems, maintaining a constant flow of salt water and allowing juvenile fish species to breed whilst protecting low lying tidal flood prone areas. |

Acid Sulfate Soils, what are they?
| | |
| --- | --- |
| | A dry & cracked drain bed. Note - the depth of the red layer of iron formation is at 300mm. |
| | |
| | Acid Sulphate Soils is the common name given to soils containing iron sulfides (pyrites). They generate sulfuric acid, and through the natural flow, leach into waterways causing major environmental as a result of poor water quality. |
| | In coastal situations within the area of 5metres AHD is the main area for consideration are Passive Acid Sulfate Soils (PASS) - unoxidised. |
| | |
| | Black iron monosulfide just under the surface of the dry cracked and oxidized drain bed. |
Acid Sulphate Soils - how are they formed?.
| | |
| --- | --- |
| | The Acid Sulfate Soils that are of the most concern were formed when the coastal strip was underwater. Over the past 10,000 years the acid cycle has been naturally forming and the Acid Sulfate Soils involved are inactive unless disturbed. |
| | Acid Sulphate Soils form when sea water, containing sulfides + land sediments, containing iron oxides + organic matter mix under anaerobic conditions forming iron sulfides (FeS). |
| | Even today Acid Sulfate Soils occur naturally in tidal areas and back swamps and appear to be occurring inland due to inland salinity. |
Potential Acid Sulphate Soils or (PASS).
| | |
| --- | --- |
| | These iron sulfides remain stable in the waterlogged, anaerobic, soils and are termed Potential Acid Sulphate Soils or (PASS). These PASS are usually dark grey in colour while spongy & soft to touch. The pH of PASS is normally close to neutral, pH 6.5-7.5. |
| | The reaction starts when the Acid Sulfate Soils oxidize, ie, comes in contact with the air through development, drainage, drought cracking and natural disturbance. |
| | The naturally producing acid from the iron sulfide layers is usually neutralized by the sea water through the natural tidal movements. Through the event of development, more potential acid sulfate soils (PASS) are oxidized and subsequent acid production is greater than can be dealt with in the natural acid neutralizing cycle. The tidal watercourse are not able to neutralize the large amount of acid in the water resulting in detrimental effects to the health of marine life ie, fish kills, and other organisms reliant on life in the watercourses. |
Actual Acid Sulfate Soils or (AASS).
| | |
| --- | --- |
| | |
| | Note: The black iron monosulfide. The grey Potential Acid Sulfate Soil and the oxidised region from drying and cracking. You can also see the dry cracked appearance of the drain bed surface. |
| | In many cases PASS and AASS are right next to each as seen in the photo above. |
| | These soils contain oxidised iron sulfides producing sulfuric acid and have a pH of generally less than 4. As the name suggests they are active and creating sulfuric acid. Soils may even contain jarosite which is yellow in colour and a visual factor that further oxidation is in process. |
| | When Potential Acid Sulphate Soils are exposed, oxidisation products take the form of red iron stains and extreme pH 1.5 may be encountered. |
Acid Sulfate Soils - Development & Construction.
| | |
| --- | --- |
| | The acid run off problem starts when areas containing Potential Acid Sulphate Soils became disturbed resulting in oxidation. |
| | As Acid Sulfate Soils mostly occur in coastal regions. Population demand, along with increased development have seen the need for utilising seemingly 'wasted wet lands'. Through the draining of flood plains, clearing of wetlands, extending areas for future developments and the provision for infrastructure we have seen the degradation of these potential Acid Sulphate Soil areas where they are now being exposed and consequently oxidizing and forming sulfuric acid. |
| | Coastal constructions such as concrete bridge pylons or drainage head works are often affected by low pH water. The acids reacting with alkaline products that are used to produce concrete. |
| | During the rain periods the large quantities of acid discharge travel through the soil, acidifying the soil water, groundwater and eventually the surface water. This is made more significant particularly when there has been an extended dry period. The surface layer dries and cracks allowing oxidation. |
| | Highly acidic environmentally degraded discharge drain. |
Sulfuric Acid (H²SO4) and other Chemicals.
| | |
| --- | --- |
| | One of the most concerning problems with Acid Sulfate Soils is when oxidation occurs and sulfuric acid is produced which can 'strip' & dissolve potential heavy metals out of the soils. These chemicals could be iron, aluminum, manganese and even heavier metals such as cadmium and arsenic. This effects the delicate eco-system in these areas making it difficult for plants and animals to continue surviving. |
| | At times there can be so much sulfuric acid present that plants will not grow and the land is bare with a scalded appearance. |
| | It has been shown that highly acidic water causes corrosion of steel and concrete structures such as bridges, fencing, pipes and floodgates. |
Sulfuric Acid (H²SO4) and the Environment.
| | |
| --- | --- |
| | What starts & or continues is a complex chemical reaction that spreads into nearby environmental areas. Making it hard for crops to access necessary macro N.P.K. (Nitrogen, Phosphorous, Potassium) nutrients normally found in soils to produce a viable yield. |
| | In acidic conditions macro nutrients, N.P.K., are not available while low pH soluble micro nutrients like aluminium and iron are available. |
| | Highly oxidised site due to Feral pig damage. |
| | Naturally forming animal fodder may decline and in its wake may grow more salt tolerant unpalatable plants. Any farm animals relying on this pasture may ingest toxic levels of metals from these plants. |
| | The farms water supply may be affected by higher levels of chemicals. |
| | Noticeable effects of increased acidity is a detrimental decline in essential marine life. |
| | |
| | One of the most significant indications of acidic water is the decrease in water quality resulting in fish kills, including oysters and crustaceans (see Photo). |
| | |
| | Juvenile mud crabs hiding in the damp un-oxidised iron mono sulfide. |
| | Long term effects may result in the decline or cessation of fishing or aquaculture industries relying on the breeding of fish in the local waterways. |